16 min read
2022 Home Renovation Costs in Southern California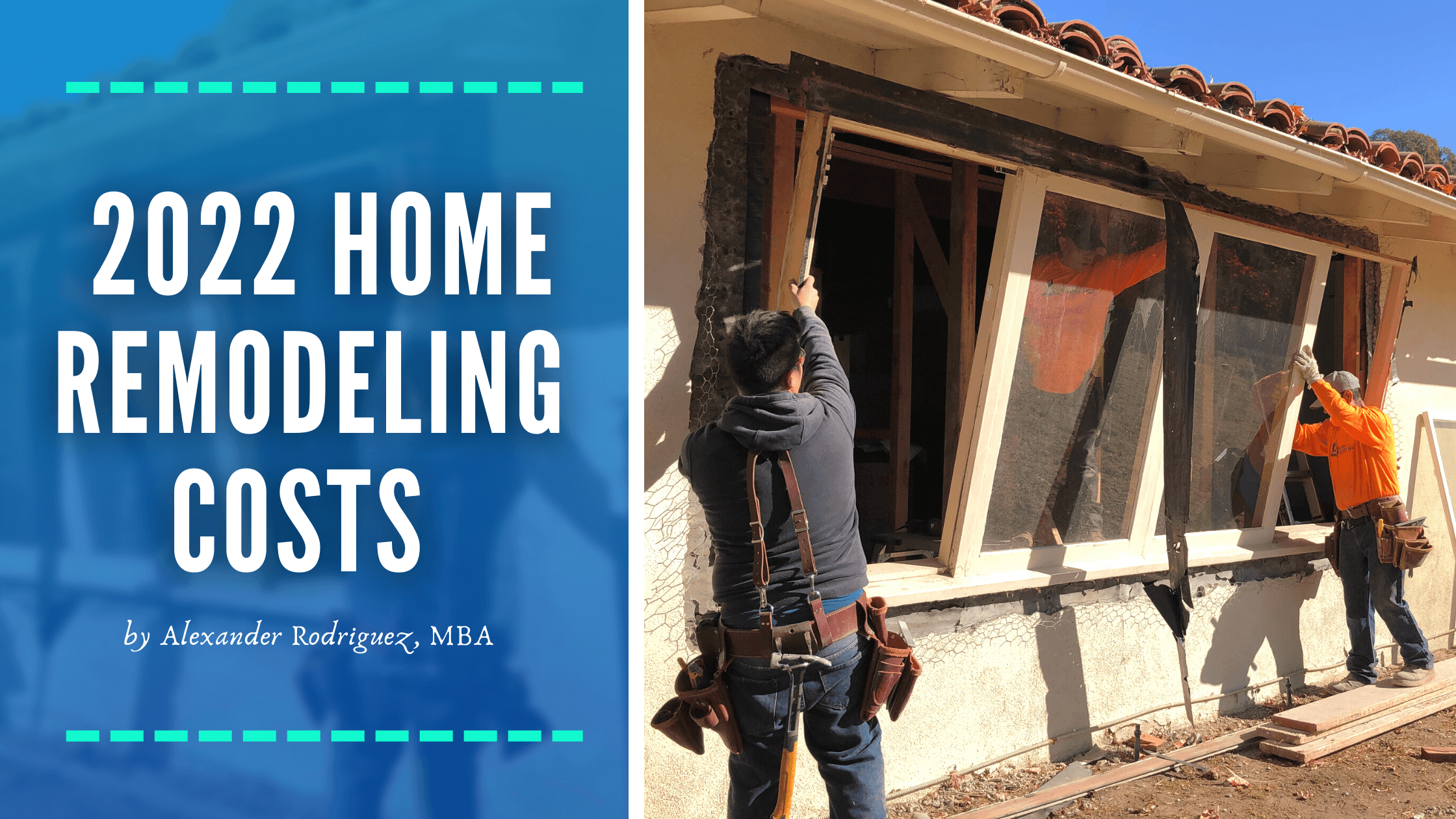 Home remodeling prices keep going up with no signs of stopping, learn how much you can expect to pay for a kitchen bath remodel in 2022
With over 20 years of construction experience, I want to share with you an in-depth explanation on how to approach a major home remodel in Southern California. This blog article will cover the cost to remodel a home, major cost factors of a remodel, and how to design a project that you can actually afford. I have written this article to help homeowners understand what the true cost of home remodeling is, when I meet with property owners considering a major remodel of their home cost is always top of mind.
Contents
What Are the Most Expensive Components of a Gut Renovation?
How Much Does it Cost to Remodel a Kitchen?
How Much Does it Cost to Remodel a Bathroom?
How Much Does it Cost to Install New Windows?
---
The internet is littered with dozens of cost articles written by lead generation companies (think AngiesList) that sell people's contact information to contractors. Most of the information they share lacks real-world numbers and their figures are significantly lower than what you will actually pay for your project.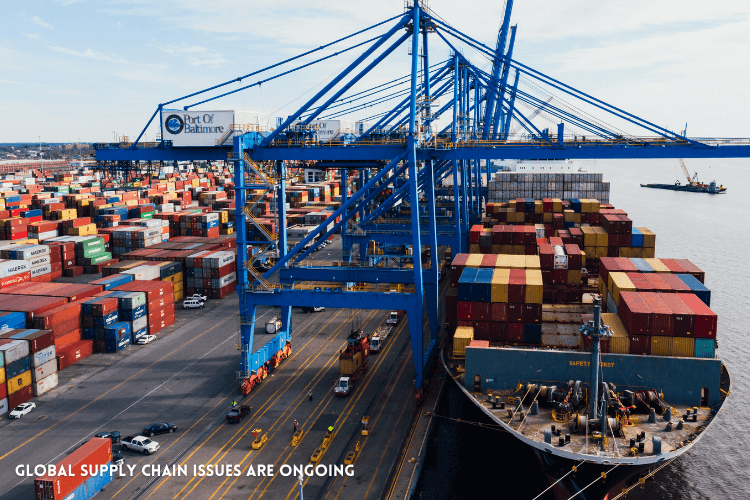 Global supply chain issues are causing headaches for builders.
This article is based on current pricing in Southern California, particularly construction costs in Los Angeles & Orange County. Keep in mind that articles written before 2021 are simply outdated. In the last 18 months rising inflation, rising fuel costs, and global supply chain issues are having a major impact on the cost of building materials & labor costs. Commonly used construction materials (like dimensional lumber, cement, and paint) have seen a 15% to 25% price increase since the summer of 2021. (O'Neal, 2021).
How Much Does a Gut Renovation Cost in 2022?
The true price of a major home remodel, or a "gut renovation" can range from $250,000 to $650,000, depending on the size & age of a home, and how many repairs will be necessary. The scope of the work to be done is very important, as with any project, the more work and repairs you need the bigger your final price tag will be. With a clear job scope, you will be able to accurately compare contractor bids. This article will define the typical scope of work when completely remodeling a home and how much you can expect to spend for every component. The size of the property also plays a major role in construction costs, in this scenario we will focus on moderately sized homes between 1,800 to 2,500 square feet.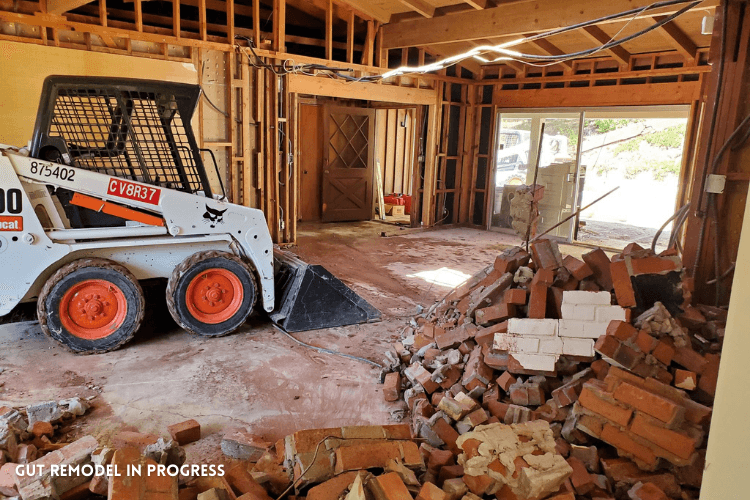 Gut renovations are more common in older homes.
Typical Scope of Work for Gut Renovation
Kitchen Remodel (Removing a wall adds an additional $20,000 to your budget).

Bathroom Remodels (2 bathrooms and 1 powder room).

Installing New Drywall (on all walls and ceiling).

New Insulation (on walls and ceiling).

New Windows (typically 15 to 25 new windows)

New Flooring (choose between laminate, hardwood, or tile)

Stucco Repairs or Replacement (Smooth or Rough Finish)

New Exterior Paint

New Roofing (Cool Roof Shingle, Clay Tile adds an additional $15,000)

Heating and Cooling Systems Installation

If the electrical panel is too small or has no space for new circuits you'll need to upgrade to a new panel.
Install new venting soffits (to hide the new vent pipes).

Electrical System

Upgrade to 200 AMP service panel (if you have a small 100 amp panel or still use fuses).

New Subpanel (for interior distribution).

New Recessed Lights (4" LED warm or cool light).

Rewire (25 to 35 circuits, especially for new appliances).

Exterior Outlets (entertainment & Christmas lights).

Exterior Flood Lights (with motion sensors).

Plumbing System

New sewer line (especially if clay lines are compromised)

Re-pipe Freshwater Lines

New Tankless Water Heater

You'll need to move the gas line, and add 20 amp electrical service
As you can see it takes a lot of work to renovate an older home, you almost certainly need to update every single system (Plumbing, Electrical, and HVAC) for you to live comfortably. You might find it hard to believe but it's different to live in a home without air conditioning, insufficient outlets, and not enough lighting. That's why you'll want to hire a licensed contractor that has the experience to handle your entire project from start to finish. You should always consider a contractor that can provide Plans, Interior Design, and Construction Services for your whole remodel.
What Are The Most Expensive Components of a Remodel?
Removing Walls for Open Concept - You will need some type of engineering plans any time you remove a wall, whether it's load-bearing or not. Creating an open concept takes so much more than just removing a wall, you also need to reroute electrical & plumbing lines. You might also trigger some seismic retrofits to the existing walls. The total cost added to a remodel project can vary from $25,000 to $50,000 depending on the size of the building and the span of the new opening. Want to learn why it costs so much to remove a wall? Click Here to Read my Article "How Much Does it Cost to Remove a Wall?".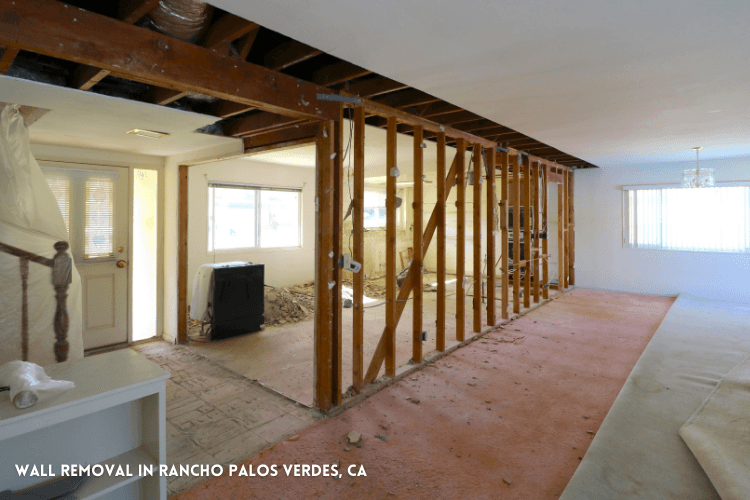 Open Concept Kitchens are more popular than ever.
Plumbing Upgrades & Sewer Line Replacement - If you purchase an older home that hasn't been maintained well you might be in for a surprise for how many plumbing upgrades you might need. In most cases gas lines need to be relocated when adding a new oven during a kitchen remodel. It's a wise investment to replace old sewer lines in homes built before 1960. Old sewer lines often have flat sections where sewage solids do not drain well and sections of the sewer pipe can have substantial corrosion that allows sewage to leak into the soil. This is easy to do in a house with a raised foundation, but if your home has a slab foundation expect to pay $5,000 to $10,000 to remove existing concrete, trench, and pour new concrete. All of this has to be done by hand.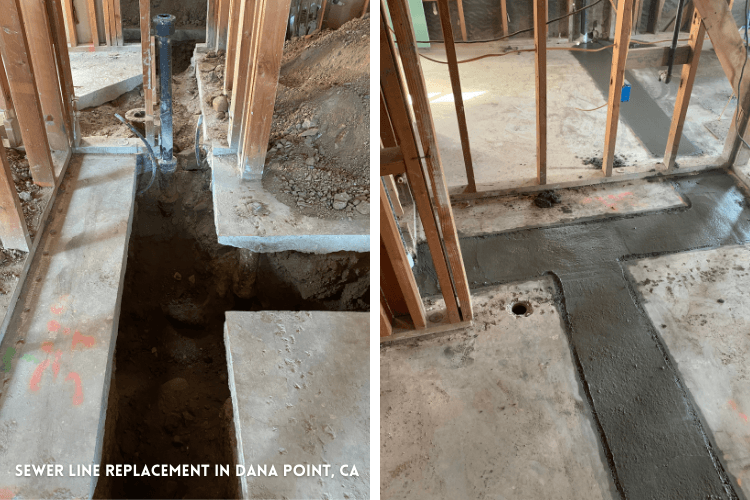 Trenching for new sewer lines in a home with a slab foundation.
Water Heater Upgrades - Most new homes are being built with tankless water heaters because they are smaller and more efficient, but if you want to add a tankless water heater to an older home you'll need to make some plumbing and electrical upgrades. You will need to move the water feed lines to the new heater location. You will also need to increase the size of the gas feed line from a 3/4 inch pipe to a 1-inch pipe. When it's all said and done, you will pay between $8,000 and $10,500 to install a new tankless water heater.
Electrical Panel Upgrades - Electrical panels are one of the components homeowners tend to overlook. In most cases, a major home remodel requires an increase in electrical load capacity. This is especially true in homes that still have fuses or less than 100 amp power. Did you know that modern building codes require each kitchen appliance to run on its own circuit? In our experience, 85% of all kitchen remodels will require some type of electrical panel upgrade. This is also true when upgrading heating or cooling systems, adding more countertops outlets, and wall ovens. Expect to pay between $3,000 to $4,500 for a panel upgrade when remodeling your home.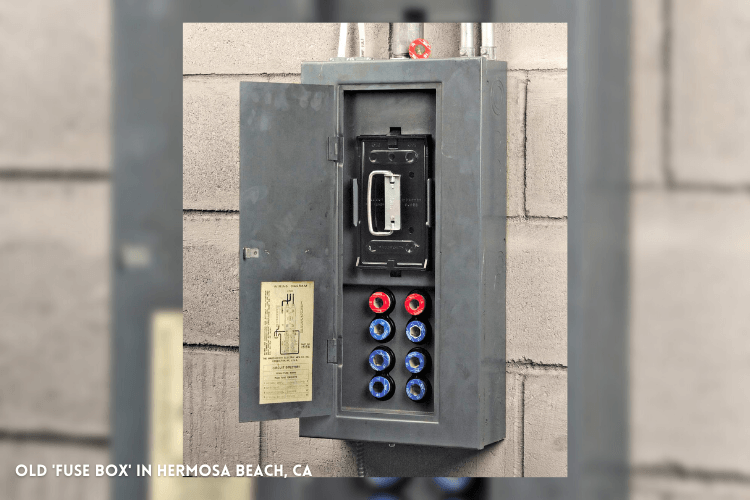 Screw-In fuses are common in homes built before 1950.
Interior Lighting - Recessed lighting is still the number one choice when remodeling a home. Up until recently recessed can lighting was the standard, but the quality of recessed LED lights is so much better now, making them a popular option over can lighting. Smart LED lights like those offered by Lutron, and C by General Electric are also gaining acceptance among homeowners. If you are installing new recessed lighting throughout an entire house, expect to pay between $7,000 to $11,000.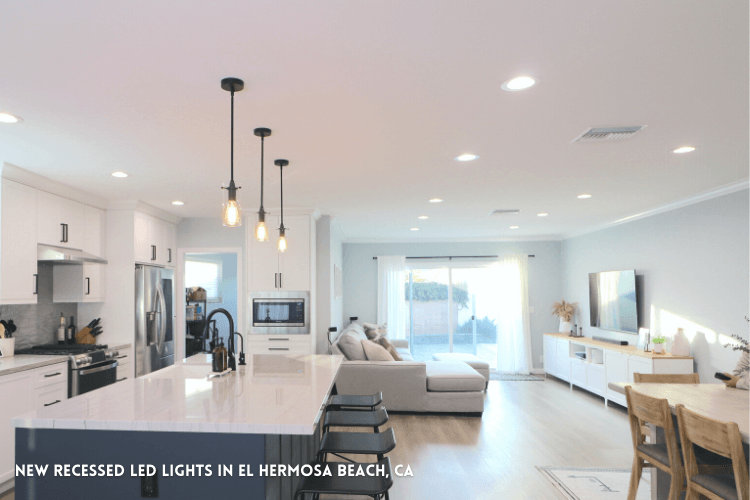 New recessed LED lights installed during remodel.
Exterior Lighting - Some owners opt to add exterior lighting when remodeling their homes. You can choose to add landscape lighting, or adding exterior electrical outlets so you can plug in your Christmas Lights. If you are planning on installing smart cameras or a closed-circuit security system (CCTV) you should install all the necessary wiring during a remodel, it is the best time to do so. Luckily this is affordable, it will run you between $500 to $1,500 depending on the number of outlets you add.
Electric Car Charger - Electric vehicles are becoming more common, and more homeowners are opting to charge at home. If you are upgrading your electrical panel (say because of a kitchen remodel) you can easily add an electric car charger to juice up your ride at home. You can expect to pay between $500 to $800 to install an electric car charger.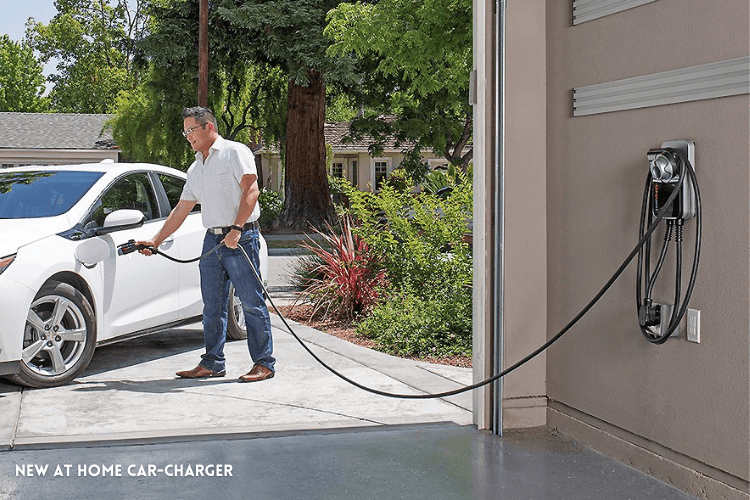 Electric cars are gaining popularity in Southern California
How Much Does it Cost to Remodel a Kitchen & Bath in Southern California?
In this section of the article, I will break down the cost of remodeling a kitchen or bath by job task so that the reader can truly understand where your money goes during a remodel. Also, the sections of the remodel are also divided up into compartment projects. For example, the cost of the bathroom remodels is computed separately from the cost of a kitchen remodel.
2022 Kitchen Remodeling Costs in Southern California
Kitchen Cabinets - When it comes to cabinets, homeowners have two options to choose from, Custom cabinets or prefabricated (prefab) cabinets. The cost difference between custom cabinets and prefabricated can be as much as double. Custom cabinets are more expensive but offer so many more benefits than prefab cabinets. Customizability means you can have more efficient use of storage space and can include features like this offered by Rev-A-Shelf. Custom cabinets also have 3 price points. Painted Cabinet grade, Stain Grade, and Laminated grade cabinets. It is fairly common to spend between $37,000 for smaller kitchens and upwards of $80,000 for larger-sized kitchens.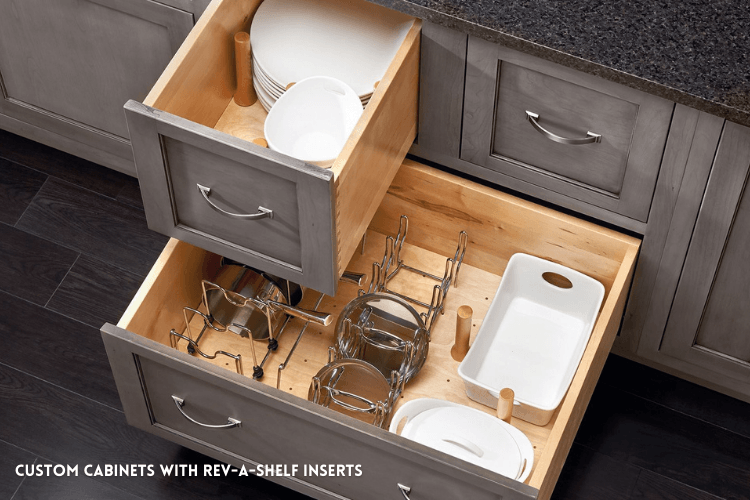 Rev-a-Shelf organizers installed in a custom drawer.
Prefab cabinets only offer one feature - affordability. Prefab cabinets are often found at big box stores like Lowes & Home Depot, they are often sold flat which means you need to assemble them yourself. Unfortunately, when using prefab cabinets you are limited to the sizes they offer or whichever sizes are in stock when ordering. You can often tell when prefab cabinets were used in a kitchen if the base cabinets have several 'filler' sections and have a dead corner. For prefab cabinets, you can spend anywhere between $15,000 to $20,000 depending on how many base & wall cabinets you need.
Kitchen Countertops - Countertops are often the first thing you notice in a kitchen, that's why owners tend to "spend a little more" on nice countertops. You can spend as little as $500 on laminated countertops, but they look cheap. Granite counters are a popular option for price-conscious buyers. Or you can spend as much as $10,000 for ultra-luxurious marble slabs. Luckily there are plenty of options in-between. Quartz & Quartzite countertops are very popular, they can give you a marble look for much less money. Expect to spend $5,000 to $9,000 for prefab countertops (the most common type of countertops).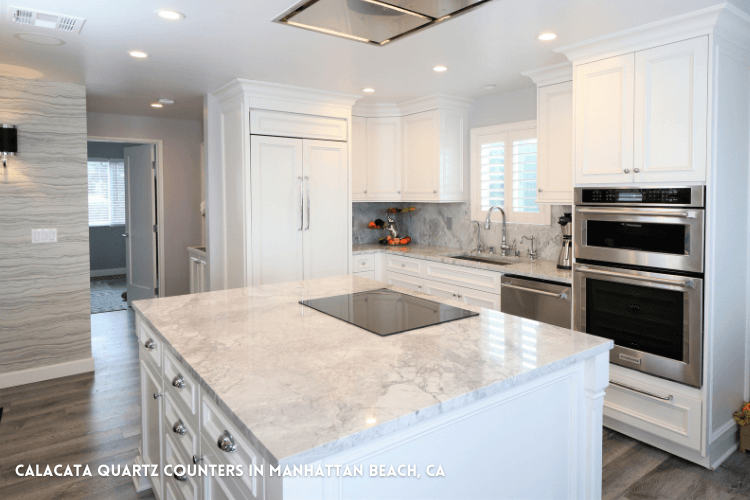 Countertops are the centerpiece of every kitchen island.
Electrical for Kitchen - Electrical costs for a kitchen remodel can vary from $8,000 to $15,000. The electrical cost upgrades are divided as follows: new lighting, new electrical circuits, new counter outlets, and light switches. Most medium-sized kitchens will need between 12 to 18 recessed lights with 8 to 12 circuits for optimal illumination, 13 to 15 new electrical circuits because most kitchen appliances need their own circuit, and between 10 to 15 counter outlets for small appliances. This is without an electrical panel upgrade, assuming that the property has an existing 200 Amp service panel with available circuits to dedicate to the kitchen.
Plumbing for Kitchen - In most cases the gas line feeding the oven will have to be replaced or relocated during a remodel. Many Owners elect to replace the vent pipes and the drop drain for the kitchen sink. If the house has not been repiped since it was built, the kitchen sink waste line is likely clogged with decades of grease and grime. Most if not all of our kitchen remodels include new PEX Plumbing lines within the kitchen. PEX is easier to install, flexible, and does not corrode. A kitchen repipe with PEX piping can cost between $3,500 to $5,000.
Drywall & Insulation for Kitchen - In many older homes built before the 1940s, owners elect to remove old plaster from the walls and ceilings. This presents a good opportunity to install new insulation on the walls and ceilings. A properly insulated house will perform much better in both cold and hot weather. It will also cut down on heating and cooling energy bills. Expect to pay between $4,000 to $7,000 for drywall, especially in open concept designs.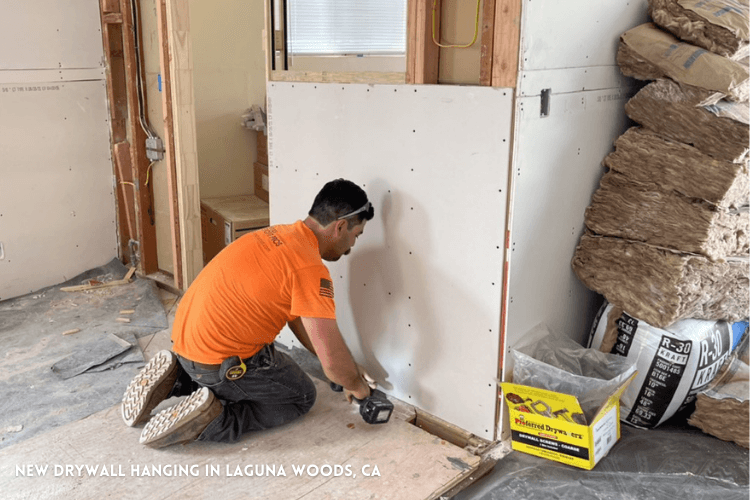 One of our team members hanging drywall in Orange County.
Flooring for Kitchen - You have no shortage of options when selecting new flooring for your kitchen. You can select affordable yet stylish SPC or LVL (vinyl) flooring, moderately priced wood laminates, or high-end hardwood floors. The type of floor a client selects is generally a factor of cost and existing site conditions. SPC flooring is very affordable, on average, homeowners spend between $3,500 to $5,500 for flooring.
When opting for tile floors, some additional work will be necessary, especially on homes with raised foundations. If the house is built on a slab foundation, the flooring installation will be less expensive than if the house was built on a raised foundation. Raised foundations are built from wood and in order to install new flooring, the subfloor must be very stiff and level. Failure to do so will cause the tiles to crack and grout to break off. Most homes built before 1980 have very thin plywood subfloors. They must be reinforced or in many cases replaced completely with thicker plywood sheathing. This can be extremely expensive. Hardwood floors don't need thicker subfloors, but many people elect to replace the subfloor because of the squeak caused by the floor flex. If you need a new subfloor, be prepared to pay between $10,000 to $18,000 for repairs.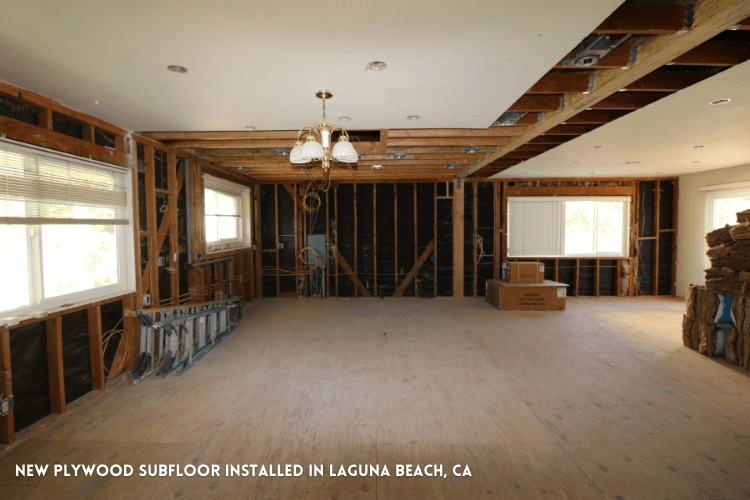 New 1-inch plywood subfloor installed in preparation for tile floors.
In homes with slab foundations, you will need to prep the floors by removing any mortar remnants of the old floor tile. Any cracks need to be filled with waterproof mastic and membrane fabric over the crack. In most cases, a lightweight concrete (self-leveler) will need to be applied to low spots on the slab, in order to have a level floor when installing new flooring. Once the slab is level with no voids, any flooring finish can be applied. You can expect to pay around $3,500 to $5,000 when leveling floors with lightweight concrete.
2022 Bathroom Remodeling Costs in Southern California
In 2022 the cost of a bathroom remodel will typically fall within the following three (3) distinct categories: "Good, Better, Best". A "Good" bathroom remodel costs between $28,000 to $35,000, a "Better" bath remodel falls within $36,000- $60,000, and a top of the line "Best" bath remodel can cost between $60,000- $100,000. The cost of the remodel is a sum of the total amount of work performed and the size of the space. The size of the room must also be considered. Some houses have small bathrooms that are 35 square feet total, while others have 200 square foot bathrooms.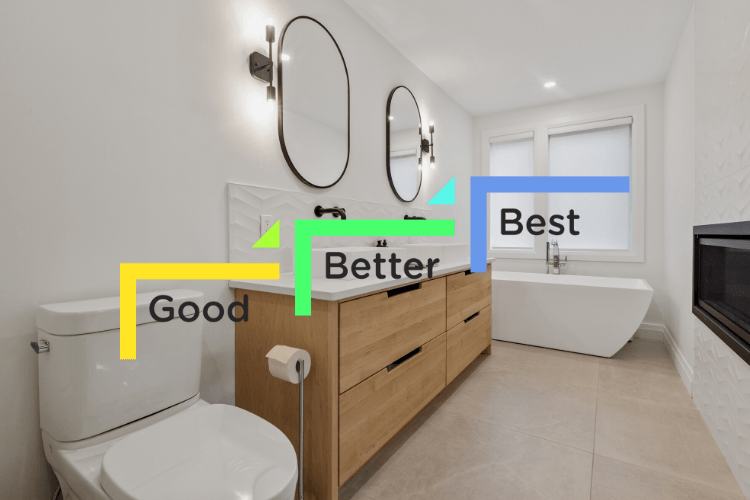 The "Good, Better, Best" tiers of bathroom remodel budgets.
Homeowners need to consider that making changes to the size of the bathroom will have a major impact on construction costs, especially now. In some cases, moving walls to make the bathroom larger is the only way to increase the bathroom's square footage. It is normal practice to absorb space from a bedroom closet or linen closet to increase the size of the bathroom. Moving the toilet is yet another major cost driver of a bathroom remodel, especially in a home with a slab foundation. These design changes may be necessary to reach the client's objective. Another consideration is the capacity of the electrical system and the electrical panel. Many older homes simply do not have any more space in the 100 amp electrical panel so it will need to be updated. This is an indirect construction cost, triggered by the bathroom remodel.
Bathroom Demolition - Demolition (or demo) is always required in a bathroom remodel. The scope of work will dictate how much demolition is needed. If the plaster on the walls of the bathrooms is cracked or shows signs of deterioration, it must be removed and replaced. In a typical bath remodel the removal of the existing shower tile, vanity & countertop, toilet flooring, and lighting fixtures will be necessary. If you are "gutting" the bathroom, or stripping plaster to the studs this means that every single component of the bathroom will need to be rebuilt.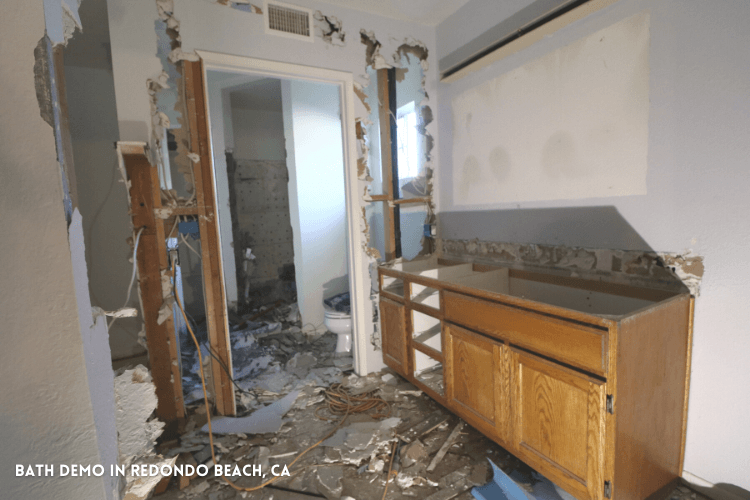 Master-bath remodel we recently worked on in Redondo Beach, CA
Not all bathrooms require the plaster to be removed. There is a 30% to 50% probability of removing plaster or drywall if the bathroom is not being enlarged. This means that no major floor plan changes will take place in a "like for like" replacement of the shower, vanity, and toilet. Demo for a bathroom remodel can cost between $1,500 to $2,500 with trash hauling included.
Bathroom Plumbing - In large master bathrooms, adding or replacing a separate bathtub will be part of the scope of work. That means that you also need to install water lines for the tub filler valve and obviously the cost of the tub itself. The tub can vary in cost, from $1000 for a contractor-grade tub you can get at Home Depot, to as much as $10,000 for a top-of-the-line whirlpool tub with jets. Keep in mind that adding features to the scope will also increase your final price tag. In this scenario, the vent and drain pipe dimensions will need to be verified to see if they are adequate for the new increased water flow. By code, drains need to be 2" and shower vents 1.5" in diameter. Expect to pay between $2,500 to $3,500 for plumbing hardware during a remodel.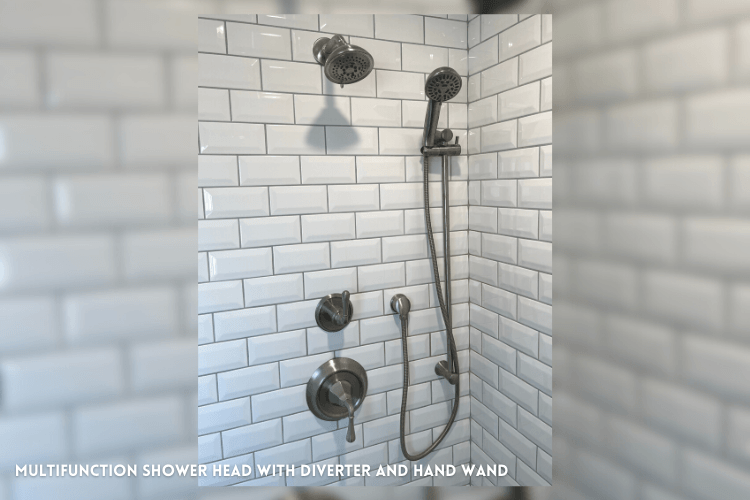 Kohler Multifunction Showerhead with Hand Wand.
The majority of homeowners want a double vanity in the master bathroom. When considering a double vanity you will also need to factor in the added cost of two sinks and two faucets. Showerhead units can be affordable single-function, to pricier multifunction systems. A simple function is a valve and showerhead. Multifunction showerheads offer a hand shower with a hose and a diverter that allows the user to switch water flow from showerhead to hand shower. In high-end homes, most owners opt to install a steam shower unit. A steam shower is definitely a luxury item, this will add about $12,000-$15,000 to a bathroom remodel. The cost of the steam unit, plus relocating of plumbing lines, and the shower enclosure will add about three times the price of plumbing when compared to a regular bath remodel.
Framing for Bathroom - There is very little framing required in the average "like for like" bathroom remodel, but if you plan on increasing the size of the bathroom by absorbing space from a closet, you will need some framing. Likewise, when removing a tub and adding a shower, carpenters will need to frame a new shower pan and possibly a shower bench. If you are planning on installing a new, larger, drop-in tub, you will also need some framing for it. Expect to spend around $3,000 when framing for a new drop tub in a bath remodel.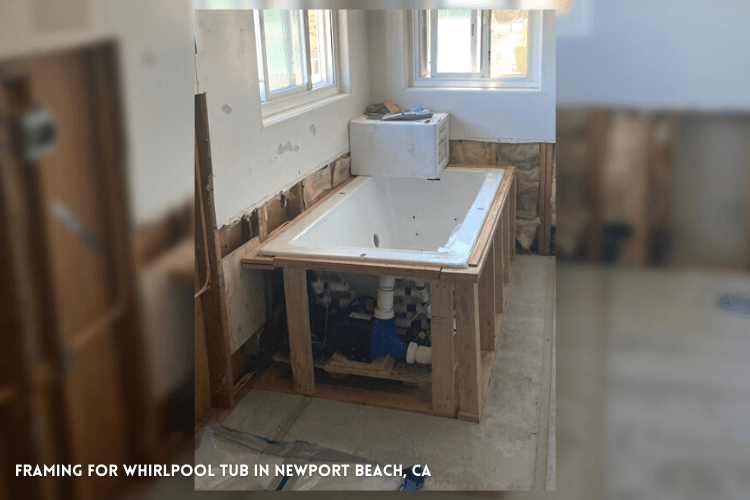 New drop-in whirlpool tub installed in a master bathroom.
Electrical for Bathroom - The electrical portion of a bathroom remodel is typically straightforward. Some time of illumination will be required in the shower and above the vanity. Some homeowners also elect to add lighting above the toilet, this is especially useful in large bathrooms or bathrooms that have little natural light. An exhaust fan in the bathroom is required by code, we often use the Panasonic Whisper fan with an automatic moisture sensor because it is powerful and very quiet. In the past, we have also installed electrical lines when adding an in-wall electric heater, the perfect companion for those chilly morning showers. You will also need some electrical outlets at the counter level so you can plug in your electric toothbrush or hairdryer. New updates to the building code require these plugs to be a Ground Fault Circuit Interrupters (GFCI) type to avoid any injuries when coming into contact with water. The average-sized bathroom will have a cost of around $4,500 for electrical work for a bath remodel.
Hot Mop Showerpan - All new shower pans will require a waterproofing membrane. There are several methods of doing this like a Schlüter-Kerdi membrane sheet, or the tried and true hot-mop method. We first apply a sloped mortar bed that is covered with a felt paper underlayment which is then covered by hot liquid asphalt, to create a three-layer watertight membrane. A slope will allow the water to naturally flow towards the desired drain and avoid any puddling. A hot mop shower pan will cost $600 on average.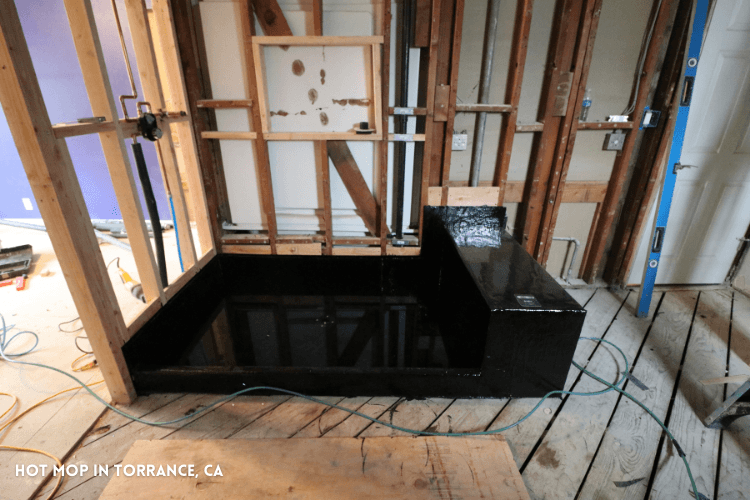 The "old school" hot mop shower pan method.
Tile & Stone for Bathroom - You might not think about it, but installing tile in the shower and bathroom floors is one of the most expensive components of a bathroom remodel. We prefer to do things the 'old school' way by floating the walls with a mortar bed instead of using cement board, this allows the mason to make the walls plumb and square, allowing for an optimal tile installation. Expect to pay around $10,000 to $15,000 for tile & stone installation in a master bath remodel.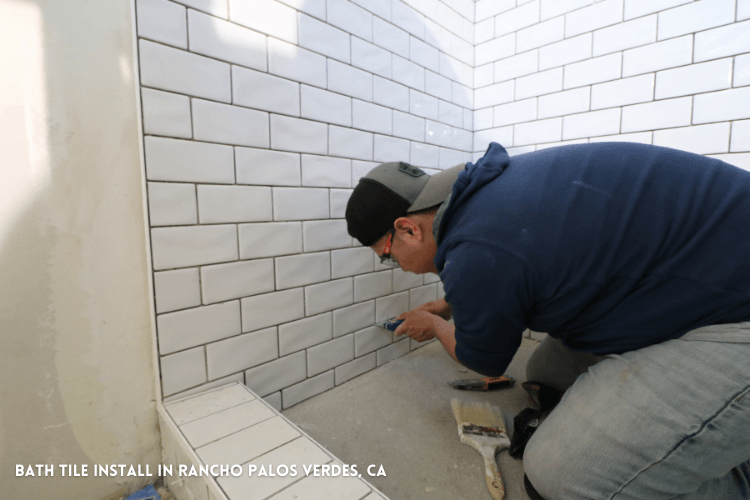 Tile grout being cleaned up after shower tile install in RPV.
When installing floor tile, the subfloor should be as stiff and level as possible, this helps prevent cracking of the tile and the grout. This is especially true in homes with raised foundations. When we remodel a bathroom with a raised foundation we include a new subfloor as part of our scope of work, we do it in the customer's best interest and to avoid any chance of cracks occurring. Be mindful that doing the best tile install can add $3,000 to your budget.
Smooth Drywall - Smooth "skim coat" walls, otherwise known as "Level 5" drywall walls have become much more popular. Homeowners should be aware that this level of finishing is way more expensive because it requires more labor, especially in older homes. Walls in older homes built before the 1970's need to be evened out to have a smooth and plumb surface. As such, homes with uneven walls that want a "Level 5" smooth finish will pay a bit more in labor in material to get this look.
2022 Exterior Remodeling Costs Southern California
How Much Do New Windows Cost?
Vinyl Windows - Vinyl windows continue to be a popular option for price-conscious buyers. Vinyl window prices vary based on size & style, but you can expect to pay between $500 to $999 per vinyl window, with a few hundred extras per window for installation. On average, replacement vinyl windows on a home with 18 windows will range between $20,000 and $28,000. This all depends on how much stucco is removed and how much waterproofing & flashing needs to be replaced.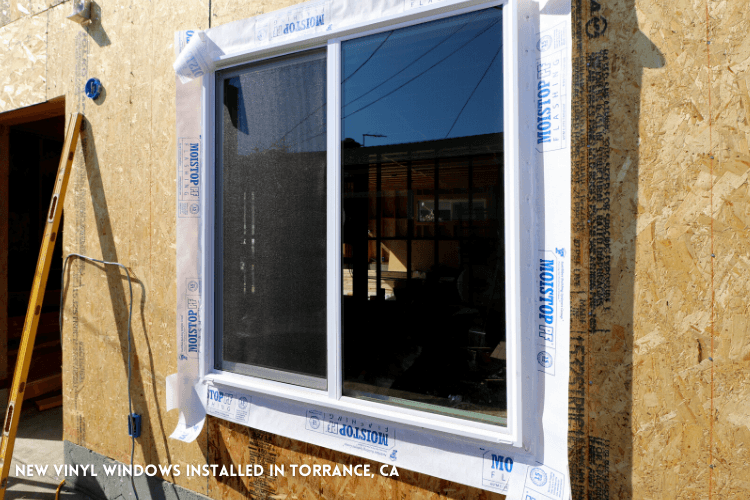 New luxury-vinyl windows installed in a new-build in Torrance, CA.
Wood Windows - Wood Windows, like those offered by Pella Windows, are the top choice for high-end homes, custom homes, and homes with strict architectural guidelines. Despite their higher price, wood windows offer more performance packages and have the added benefit of unlimited customization. Additionally, wood windows offer exterior metal cladding, with a paint-grade interior that can be painted to match your home decor. On average, installing Pella Architectural Series windows on a typical home with 20 windows can range between $80,000 to $130,000 with installation included. Expect to pay extra if you live in a High Fire Hazard Severity Zone (HFHZS) like Rancho Palos Verdes and you are required to have tempered glass.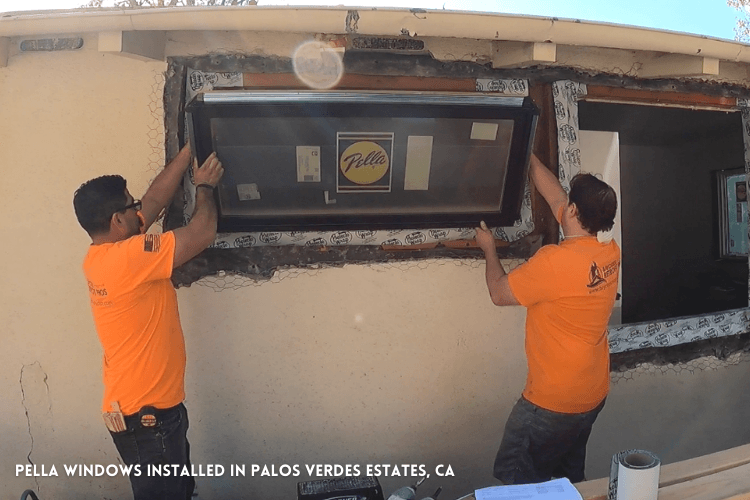 New Palla (steel clad) Wood Windows installed in Palos Verdes Estates, CA.
As of June 2022, global supply chain issues and rising fuel costs continue to impact the construction industry resulting in higher prices for building materials. Pricing for lumber, resin, and other commodities remain at all-time highs, and experts agree that prices will not stabilize to pre-pandemic levels until at least 2023 (Conerly, 2022). In 2022 homeowners also have to deal with inflation, the rising price of labor & materials, and ever-increasing interest rates when borrowing. In some cases, homeowners have had to scale back the total scope (size) of their remodeling project to stay within their budget. All of these economic factors are having an impact on demand for large home remodeling projects, homeowners may feel it is best to wait to start their big remodel until prices or inflation stabilize. In my experience, there is a direct correlation between the cost of borrowing money and the demand for major home remodels; we are starting to see demand reach lows not seen since the financial crisis of 2009. The speed at which the Federal Reserve is raising interest rates will increase the cost for retail borrowers. Although we may see material costs stabilize in 2023, any savings in material costs may be diminished by higher interest rates. Now more than ever, homeowners need to carefully consider the financial aspect of their remodel, making sure they don't have "champagne taste on a beer budget". It might come as a shock to learn that you might be getting less bang for your buck when remodeling your home in 2022. It is always a good rule of thumb to have a contingency of 20% (of your construction budget) in cash handy to deal with any unforeseen issues.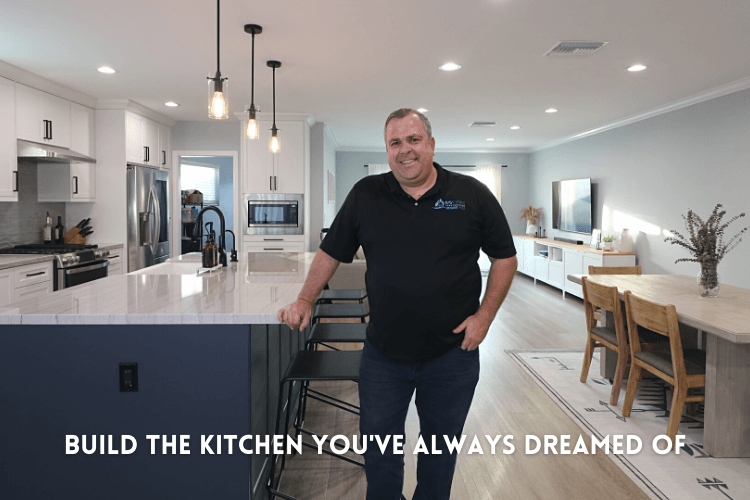 My team can help you design & build your dream kitchen or bath.
---
Learn More
I hope my latest article does not scare you away from remodeling your kitchen or bathroom any time soon. If you are considering remodeling your home this year, you will need a team of pros to help guide you through the entire process. An experienced professional to help you avoid mistakes, delays, and keep your project within your budget, especially now.
Want to learn more about kitchen & bath remodeling? I've written over 900 different blog articles to help homeowners understand the true price of home remodeling. Here are some articles that I think you will enjoy.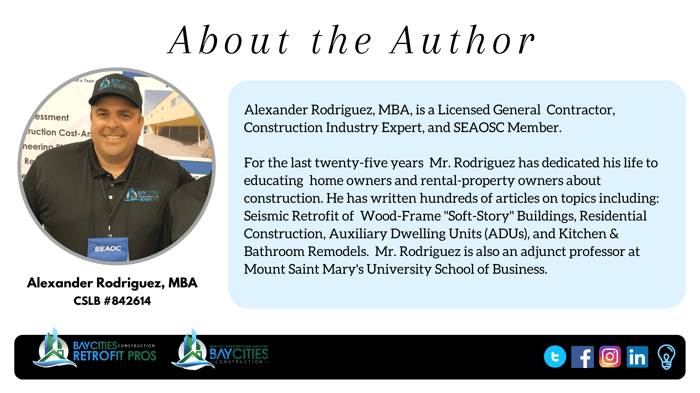 Works Cited:
- O'Neal, Lydia, 2021, Wall Street Journal (https://www.wsj.com/articles/builders-hunt-for-alternatives-to-materials-in-short-supply-11633512601)
- Connerly, Bill, 2022, Forbes Magazine Online (https://www.forbes.com/sites/billconerly/2021/05/22/why-lumber-and-plywood-prices-are-so-high-and-when-they-will-come-down/)