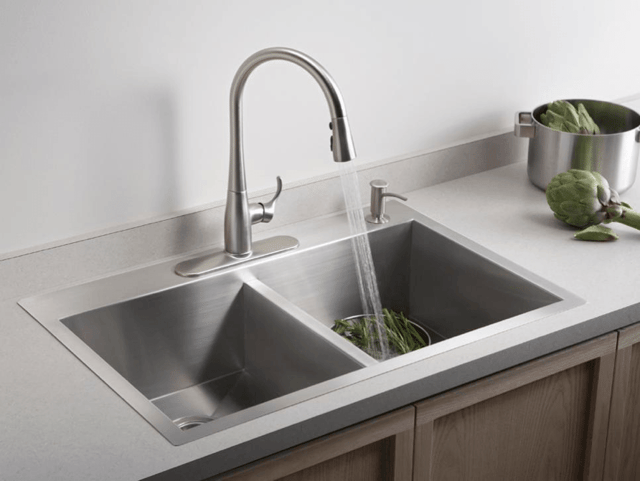 (Courtesy of HGTV.com)
Sinks are the centerpiece of the kitchen. There are so many shape and material combinations that it might seem difficult to choose. Selecting the right sink shape and material will depend on your kitchen size, need, and budget. High quality kitchen sinks will cost more, but will ultimately last longer.
In recent years, homeowners have opted for larger kitchen sinks that can fit larger pots and pans.
We have worked on hundreds of kitchen remodel projects throughout the past decade. We've written this article to help you learn about all the kitchen sink styles and materials available, while hopefully making it easier to choose your next kitchen sink. Whether you are getting ready for a kitchen remodel, or are just updating the sink, here are eight of the most popular kitchen sink styles to consider when embarking on a kitchen renovation!
Self-Rimming Sink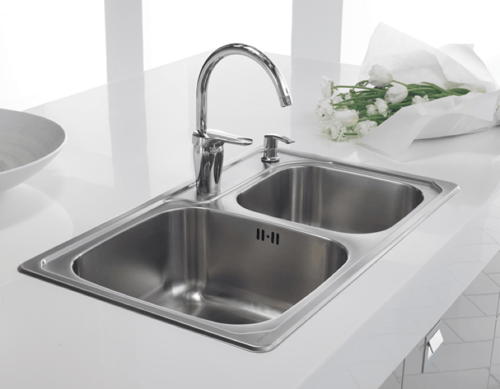 (Source: Kohler)
The most common sink design found in homes across the country is the self-rimming sink. It gets its name from the rim that extends above the counter, supporting all its own weight. This type of sink comes in a variety of materials including stainless steel, porcelain, enameled cast iron, and copper.
Undermount Sink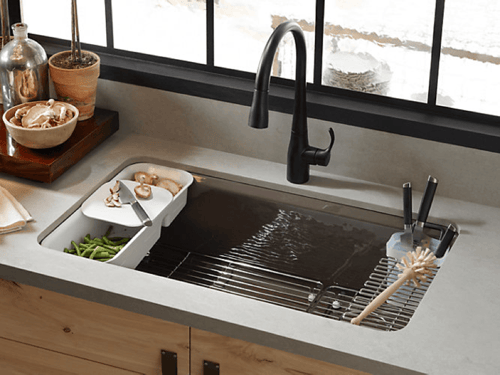 (Source: Kohler)
Undermount sinks are the second most popular type of sink. This style is installed below the countertop for a flush, seamless look. But you'll have to keep in mind, this type of sink can only be used with solid countertops like granite and marble.
Bamboo Apron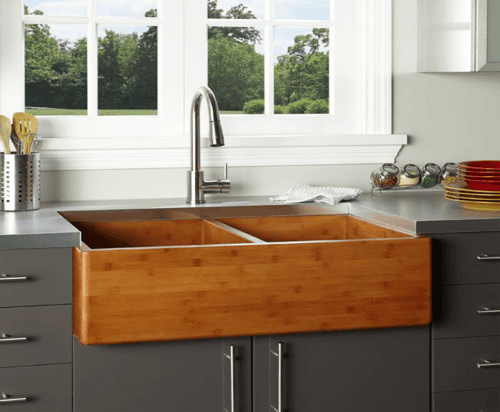 Bamboo apron sinks are seldom seen in western homes, but they are guaranteed to give your kitchen a unique look.
Porcelain Apron Sink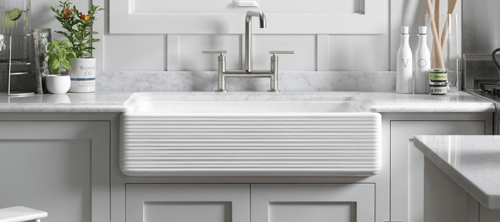 (Source: Kohler)
Porcelain apron sinks are made to resemble old-world sinks, the apron adds timeless appeal to kitchens. Although porcelain is the most popular apron sink, they are also available in stainless steel, and copper.
Integrated Quartz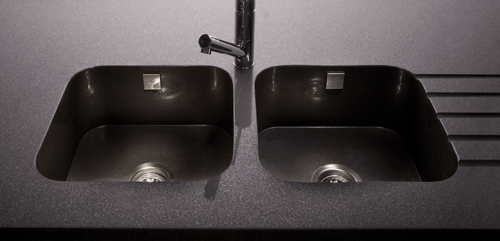 (Source: Silestone)
A fairly new trend in kitchen remodels are integrated sinks. Quartz sinks are integrated into quartz countertop slabs. This offers a smooth surface that offers an easy cleaning surface.
Integrated Marble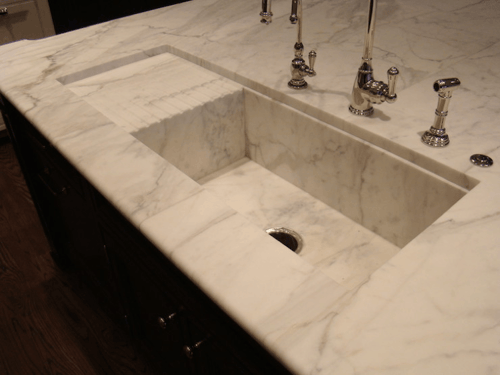 (Image via Houzz.com)
Marble sinks can also be integrated to the countertop. The integrated marble sink adds a luxurious touch to any kitchen. The high-end materials add a modern twist to a sink that has an easy-to-clean design.
Prep Sink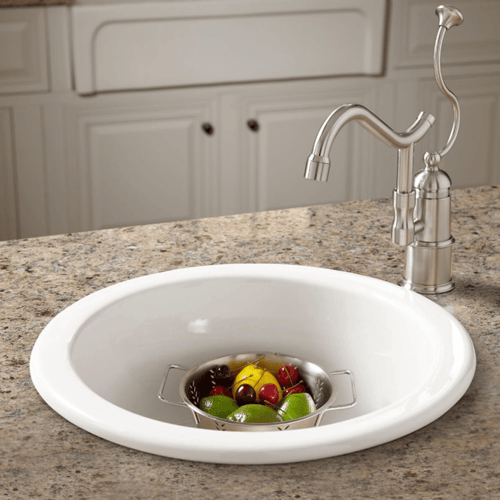 (Source: Signature Hardware)
Prep sinks are ideal for homeowners that spend a lot of time in the kitchen. Those that love cooking will enjoy the additional food preparation space. Prep sinks come in a variety of shapes and sizes, giving your kitchen a professional look.
Farmhouse Sink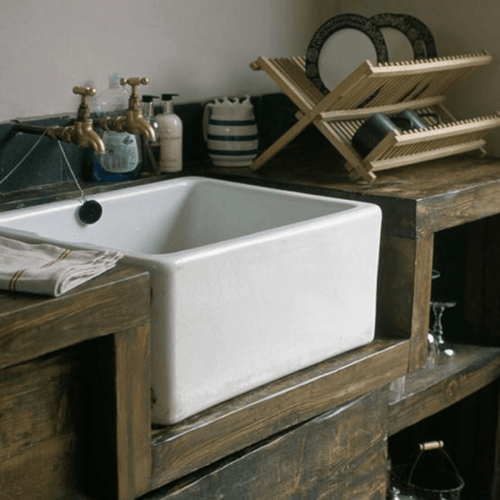 Farmhouse sinks resemble a small tub, these sinks are usually deeper than regular stainless-steel sinks. This type of sink is usually the largest, making it able to accommodate large pots and pans. This style of sink sits slightly past the cabinets on purpose; if any water runs down, it avoids damaging the cabinets. These sinks give homes a rustic look, without creating a mess.
---
Want to Learn More?
If you want to learn more about kitchen & bathroom remodeling we have over 200 articles for you to learn the ins-and-outs of home remodeling in the South Bay. Here are some articles that I think you will find useful.
At Bay Cities Construction, we pride ourselves on guiding our clients through the selection process. We are in Torrance, CA so keep in mind that California costs are higher than in other parts of the country. That is why when we talk about cost we talk about percentages of budgets. That way the information is actionable in other parts of the country. As a course of business, we help clients decide on which cabinets to select.
We cannot over emphasize the importance of designing towards a budget. Know what total budget makes sense. Every week we have come across plans and designs, drafted by outside 3rd parties that are way too expensive for the budget of the client. We have written a cost guide article on kitchen remodeling. Follow this link to learn more about kitchen remodeling costs in Los Angeles, California region.
Clients will often times ask designers, engineers, and contractors for a "ball park cost." This is one of the most dangerous question you can ask! Please read this article to avoid the pitfalls of a Quote vs. Estimate. Consider subscribing to our blog articles they are informative and relevant. Please share your comments below. Is there anything in this article that we missed? Some of our best article ideas come from you so don't be shy let us know what questions you need answered. Our Youtube channel has some cool videos about remodeling your home. Please share this article with someone that you think will benefit form it's content.