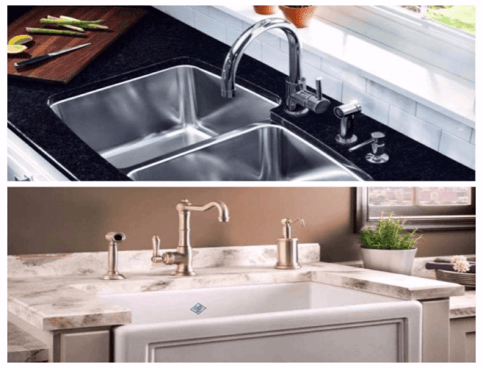 (Image Courtesy of cosmosgranite.com)
The kitchen sink has several uses in the home. Besides being used for washing dishes, a kitchen sink is also used for meal preparation, for washing hands, washing clothes, and even bathing babies.
You can choose a simple and economical kitchen remodel, or an elaborate and extravagant remodel if your budget allows it. But one of the easiest ways to change the entire look of the kitchen is by replacing the kitchen sink. The most popular kitchen sink materials are stainless-steel and porcelain, but how do you know which one to choose? Don't worry, we are here to help.
Our team has installed hundreds of kitchen sinks around the South Bay. We have installed everything from simple stainless-steel, to elegant integrated marble sinks. For over a decade, Bay Cities Construction has earned multiple 5 Star reviews from satisfied customers. We help all our clients design a kitchen towards their budget. We assist them in choosing all the right materials for their kitchen, while completing the remodeling project on time.
In our article, we will give you some insight regarding the strength, cost, installation, and maintenance of the two most popular kitchen sink materials. If a kitchen remodel or kitchen renovation is in your horizon, our handy article can help you choose the right kitchen sink material for you!
Strength & Durability
Let's get one thing straight, both stainless-steel and porcelain kitchen sinks are strong and will last you upwards of 15 years when maintained properly. The strength of a stainless-steel kitchen sink can vary greatly, but it mostly depends on the gauge of the steel. It is highly recommended to choose a stainless-steel kitchen sink with a low gauge (this means the surface is thicker). Stainless-steel kitchen sinks are more susceptible to scratches, so it's a good idea to choose one with a brushed finish, so the scratches won't be so visible. Overtime the sink will develop small scratches, but the brushed finish will help conceal them.
Most porcelain kitchen sinks are made of solid porcelain, but high-quality porcelain sinks are usually casted over steel or iron. This means that casted porcelain sinks are stronger than porcelain alone. One thing you'll have to keep in mind is that porcelain can be easily chipped. Any sharp or heavy object that is dropped on a porcelain kitchen sink can chip the surface. Long exposure to certain substances should be avoided in porcelain kitchen sinks. Bleach and other acidic substances can damage the enamel and finish of the porcelain when allowed to sit over long periods.
Cost: Is Stainless Steel Cheaper than Porcelain?
Stainless-steel kitchen sinks are more popular than porcelain sinks. One of the greatest benefits of a stainless-steel kitchen sink is that they can cost much less than a porcelain sink. They are also easier to manufacture, package, and transport. A basic stainless-steel kitchen sink can be found for under $200 dollars at any home improvement store.
The price of a basic porcelain kitchen sink will range from around $300 to $400 dollars. If you choose an undermount kitchen sink you'll be paying a bit more. An apron sink and farmhouse sink are among the trendiest porcelain kitchen sink styles. But expect to pay an additional $200 for these styles. If you are looking for a bargain, you can never go wrong with a stainless-steel kitchen sink.
Installation: How do You Install a Sink?
The installation of a stainless-steel sink is relatively easy because of its lighter weight. A Self-rimming stainless-steel kitchen sink can be installed by a plumber or a general contractor. But an undermount sink might require specific hardware or cabinetry because of the mount design.
The installation of porcelain kitchen sinks brings a different set of requirements. Porcelain sinks are a lot heavier than stainless-steel, and as such the use of a professional installer is highly recommended. The cabinet that supports the sink will also need to be stronger, an undermount sink will require more supports and braces.
Maintenance. How to Maintain Your New Sink
Stainless-steel kitchen sinks are the easiest to maintain. They can be cleaned with mild cleaners if necessary, but running water and a little lemon juice can do the trick. Chloride, abrasive cleaners, and steel-wool should not be used to clean stainless-steel kitchen sinks. A stainless-steel sink can be kept scratch free by simply avoiding abrasive cleaners. Some homeowners pride themselves in keeping a shiny, spot-free kitchen sink.
Porcelain kitchen-sinks do not require much maintenance either, but careful attention should be paid to avoid leaving any dried-on food on the porcelain. Dried-on food can cause discoloration and stains on the porcelain. Another advantage of porcelain kitchen sinks is that they can be resurfaced if the sink develops stains, scratches, or any chipping on the surface. If cleaned and maintained properly, a porcelain sink will also last several years.
Watch: Stainless-Steel Kohler Sink
This may seem like a lot of information to process at once, but we are sure you'll make the right choice for you. Whichever type of sink you choose for your kitchen remodel project, Bay Cities Construction can help you build your dream kitchen. We always guide our customers in designing towards their budget. Your budget will also be a factor in choosing what type of sink you'll need for your kitchen. We have built hundreds of kitchens across the South Bay region of Los Angeles.
We understand that the process of a remodeling project is overwhelming. After designing and building out hundreds of kitchens, we can help you carve out a path to your dream kitchen. We think you might also find the articles below helpful when researching your next home remodel project.
Read: How to Create an Open Kitchen Layout
Read: How to Select the Right Kitchen Remodeling Contractor
Our website is full of blog articles to help homeowners learn about proper home maintenance, hiring licensed general contractors, and tips for planning your next home remodeling project. It is imperative that you never go with the cheapest bid because one of two things will happen. Your kitchen will be a disaster, or the contractor is hiding numbers in their estimate and you will end up paying top dollar anyway. As the premier licensed general contractor of the South Bay, we understand your wants and your needs for a kitchen remodel and it shows in the quality of work we provide you with.
---
Want to Learn More?
If you want to learn more about kitchen & bathroom remodeling I have over 200 articles for you to learn the ins-and-outs of home remodeling in the South Bay. Here are some articles that I think you will find useful.